Listed building advice
Listed buildings: we're experts at dealing with sash window, casement window and French door restoration projects. Historic windows and doors should be retained wherever possible, using careful matched repairs. Their complete replacement should be a last resort and is rarely necessary. But if the windows or doors are beyond repair, our skill lies in making an accurate copies of the originals.
About sash window, casement window and door – Grade 1 and Grade 2 listings
Listed building windows and doors are very much a part of the Listing.  As such they often cannot be fully removed or replaced – they may very well be one of the most significant parts of the building, so any changes to them must be very carefully considered.  Pulling them out, and replacing with UPVc windows for example, will most likely end up with an enforcement notice being issued.
Listed buildings – sash window and casement window restoration projects
Making repairs and restorations to listed properties can often be fraught with regulations and restrictions. We have over 20 years' experience working with listed properties across London, Sussex and Brighton. We're committed to providing you with the best advice and guiding you step-by-step through the process.
Award-wining renovation Grade 2 listed project
Back in 2019 we worked on a commercial renovation project for the Old Post Office in Lewes. The conversion of a Grade II listed former post office building into offices for local business was designed by ABIR Architects of Hove and we were contracted to renovate the sash windows by Cheesmur of Lewes. Originally two separate buildings and dating from mid 16th-century, the conversion provided offices, design development studios, meeting and conference / exhibition space, and kitchens. The project was awarded as a category winner for the 'Commerical Awards'. by Sussex Heritage Trust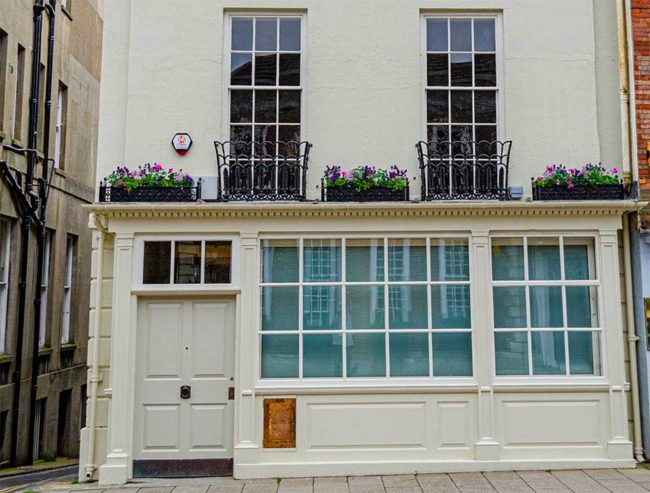 When the rules & regulations need to be followed
When upgrading or refurbishing your sash windows, casement windows or French doors most councils and conservation officers would ask that you renovate your windows where possible, saving as much of the original window. Upgrading is nearly always preferable to replacement. We've helped many listed property owners through the planning application process – providing our window-by-window survey, our recommendations and if required, any drawings or specifications needed to help the councils understand the work that will be undertaken.
If your house is in a conservation area restrictions may also apply, so again speak to your local planning authority before carrying out changes. See What Permission Might I Need? and Who Do I Contact? for further information.
Grade 1 & Grade 2 listed building consent or planning permission
If you own a listed property and are thinking of renovating the period windows we always recommend you speak with your local conservation officer first to check if you require Listed Building Consent or Planning Permission before any work commences. We can then provide a window-by-window quotation detailing the work required, plus any accompanying documentation your planning officer may wish to see.
Your local planning officer will want to know specific details about your planned renovation project. You can share the following with them:
The sash window, casement window or door units are carefully removed from the timber frame
Any decaying timber in the units, frame or sill is routed out to expose the "sound" timber
Occasionally, new timber is spliced in or replaced where the existing timber is beyond repair
We use an epoxy resin to fill the cavities and is this is then moulded to perfectly match the existing profile of the timber
If required the sash cords are replaced, pulleys serviced and the sashes correctly balanced to ensure the smooth operation of the windows
The windows are also upgraded by fitting our draught proofing system, which virtually eliminates draughts and rattles
Listed building window replacement
If your window or doors are damaged and beyond repair, you are free to repair them – it's simple enough. However, any replacements MUST be exactly like-for-like, and exact copies of the originals. Your planning department will want to know all of the details regarding any new joinery and we can help supply to scale drawings if required.
Double glazing for listed buildings is one of those topics that always sparks debate, and is probably the biggest single source of enquiries and hassle for Conservation Officers. In short: double glazing as a replacement for existing historic glazing is unacceptable, this includes retrofitting. For instance if you have Georgian sliding casement windows, with cylinder glass panels, there is not a chance that you 'll be able to change them for double glazing. If you have 1960's timber casement windows, in no particular style, and they are rotten – there would be a good case for saying that you wish to replace them with something more in keeping with the building. A much better option is to use secondary glazing which planning officers tend to view more favourably.
Working with local partners
Conservation is about managing change as well as preserving significance – every building evolves over time. We do our best to make sure it does so in a way that enhances the significance and is sustainable too. We've worked with a number of organisations to help preserve listed building over the years including Neil England of Heritage Building Advisors.
Get your free quotation today
Get in touch, we won't bite. But we do have extensive experience working on all types of projects, for private and commercial clients.
Brighton – 01273 258 226
Worthing – 01903 444 737
E: jon.davis@topnotchsash.co.uk